Billboards are an optional feature that may be added to your Product Galleries, Photo Galleries, Standard Pages, Article Manager Pages, and Blogs. While this optional feature is not best recommended by our marketing practices, it is still available for those that would like to visually share important information on their website. Billboards can be used to showcase high-quality images, highlight important products and services or promote company news. They can be a huge asset to your website if used effectively!
In this article, we would like to show you the types of Billboards available on your website, which type is recommended, and how the Billboard may affect your website, information that is useful to know before making a decision to create a Billboard for your website.
Please Note: Before you get started with Billboards it's important to understand that your site speed is greatly affected by the size and number of images you use on it. If you refuse to compress your images for Billboards, you may encounter slow site speeds. Art Storefronts will not have the ability to resolve this for you. Instead, we will ask that you make sure you use 3-5 images per Billboard, and your images should be saved as JPGs with pixel dimensions under 1000px width and 400px height.
CURRENTLY AVAILABLE BILLBOARD TYPES
| | |
| --- | --- |
| The first and recommended type is Slippery. These are the Billboards that ASF recommends you use on your website. They are more dynamic and responsive than Legacy. They also include new fade effects and features. | |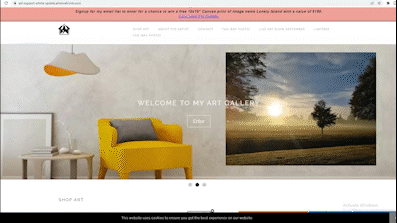 | | |
| --- | --- |
| The second type is Looping Video. This type of billboard will only be displayed by default to visitors using desktop browsers and will play an uploaded video without any sound. | |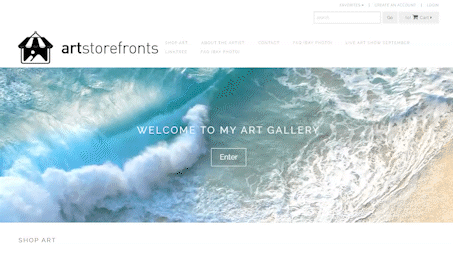 | | |
| --- | --- |
| The third type is Legacy (not recommended). This is an older, less dynamic Billboard type, but may fit your needs depending on the theme you are using as well as the look of your overall site. | |
Warning: If you are an Artist (of any kind) or a Gallery, Art Storefronts strongly advises against using a Billboard on your homepage. The reason is that a billboard may push your art "below the fold" and cause the customer to scroll down. On average, a customer only spends three seconds on a web page before navigating away from it.