SEO or Search Engine Optimization, is the process used to optimize a website's technical configuration, content relevance and link popularity so its pages can become easily findable, more relevant and popular towards user search queries, and as a consequence, search engines will rank them higher in the search results. In this article, we'll be going over SEO, it's relevance in your business and how and what you need to do to optimize your website.
Section 1 - Does SEO work?
While the intended benefits of Search Engine Optimization sound purely beneficial, it's important to note that in practice, SEO does not often generate much traffic to artist websites. Also, traffic generated through Search Engine converts at a very low rate compared to other traffic sources like your Instagram or Facebook followers or email list.
In conclusion, due to the reasons highlighted above, combined with our marketing research, this is a strategy that's potentially a huge waste of time and money.
Hear more about the risks of investing time into SEO from Art Storefronts founder Nick Friend in this must-see video:
Section 2 - Automatic SEO Generation
Your Art Storefronts Website is equipped with our Auto-SEO feature, which means that the SEO settings for every page or product on your website are automated.
If you don't have anything filled into the SEO fields for a product or page, then the site will automatically generate SEO content for the page based on the page itself, product information where applicable, and your business info in site settings.
This doesn't show up on the site manager though as the fields will still be empty when you view the SEO options page; you can check the page as it shows up in search results, or when you share it on social media.
If you fill in the SEO fields, this will replace the automatically generated fields, but changing this may take time to be reflected in your search results as Google (and other search engines) require time to re-crawl and update the information from the pages, but checking by sharing the page on social media should be immediate.
Section 3 - Optimizing your Homepage SEO
Optimizing the Homepage SEO is one task we'd recommend doing on your Art Storefronts website. To do this, make sure you are logged in to your Site Manager, and open the page that has a house icon next to it, or your homepage.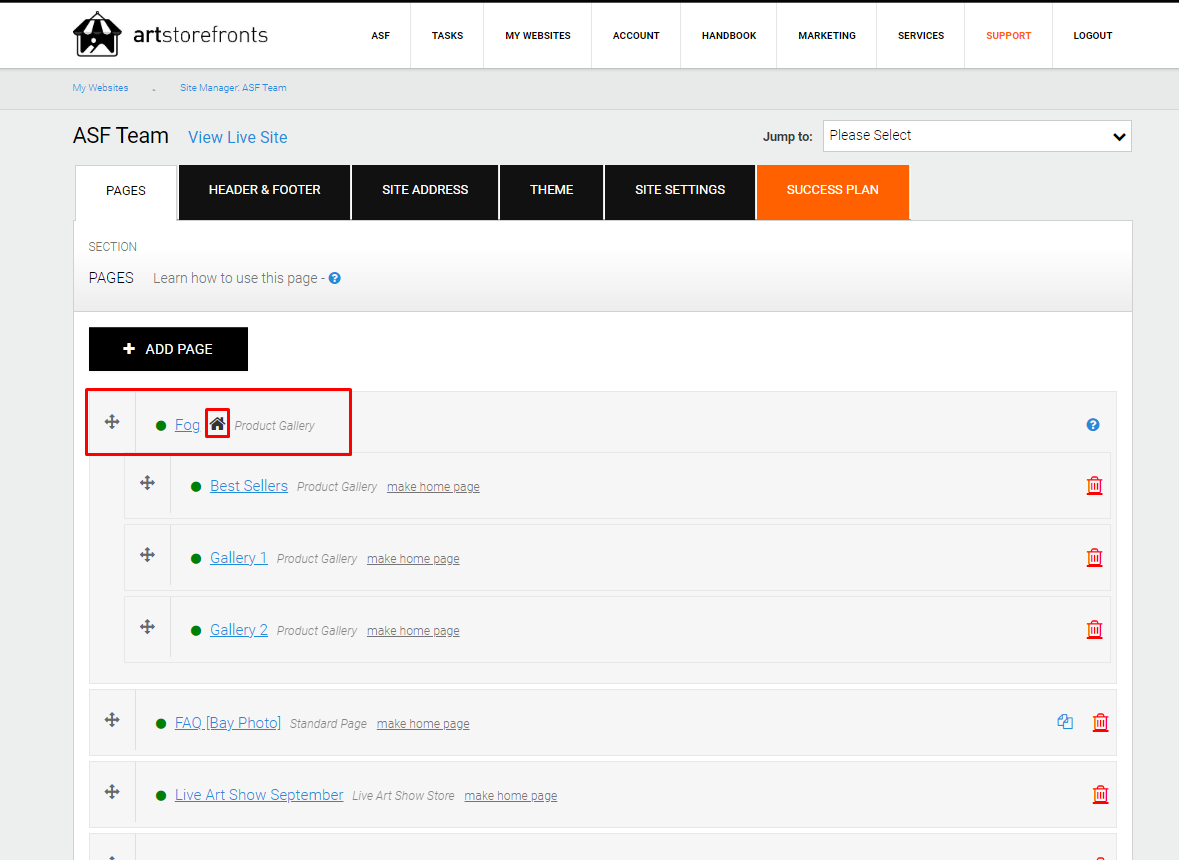 Once here, switch to the SEO Options tab.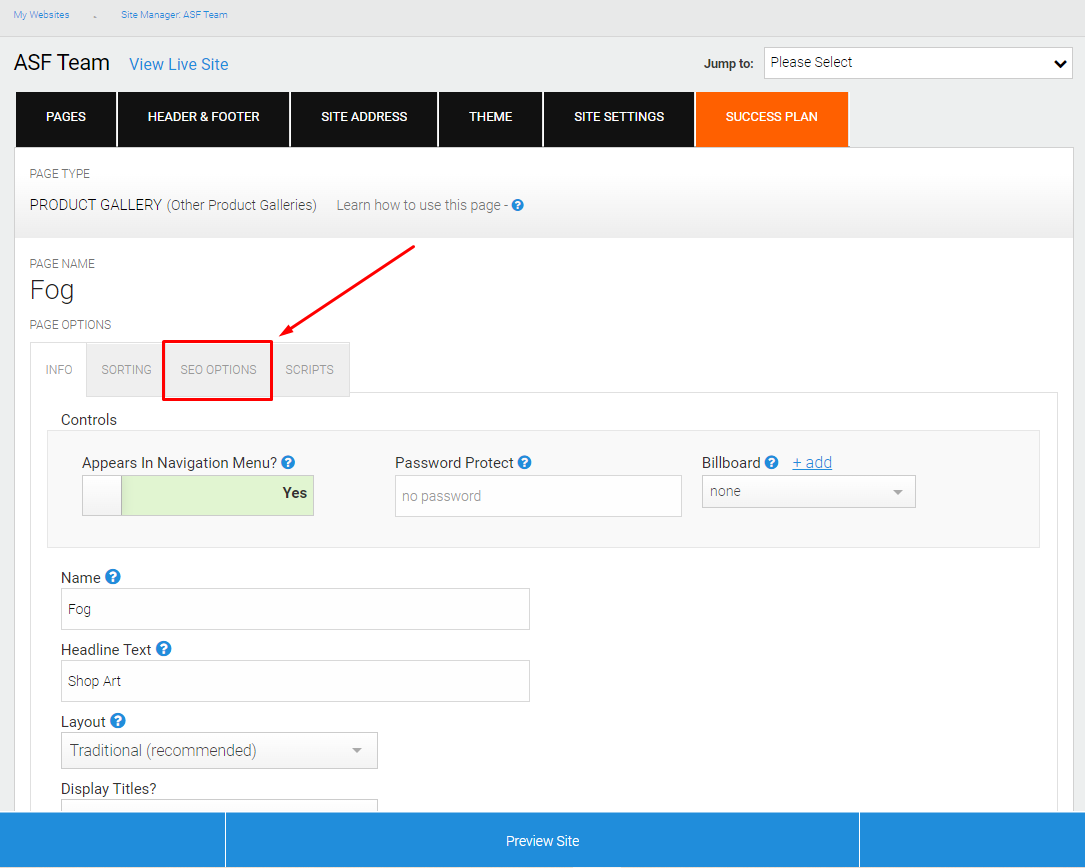 This page is where you will set the options which affect how this page will appear in search results. (These are per-page settings; it's not possible to set these for multiple pages at once.)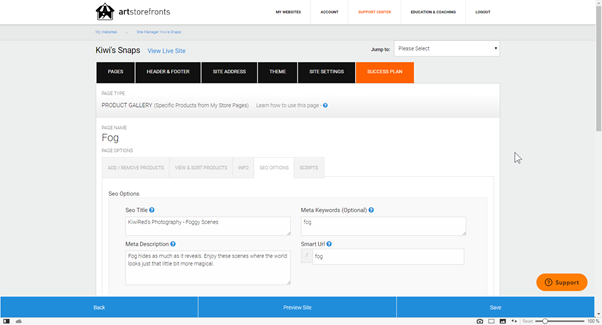 When I say 'search results' I'm referring to the way your site will appear when searched for on search engines such as Google or Bing.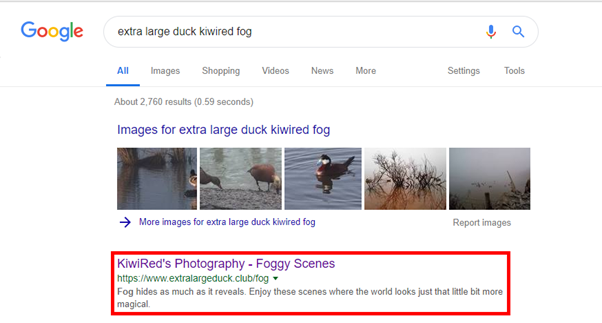 SEO Title
SEO Title field will allow you to set the title for your website. For best results, you should Include your name (or business name), your major niche (if you have one), and "Shop" language. 60 characters max (this tool is helpful).
For example: Hannah Lakey | Shop Fairy Tale Artwork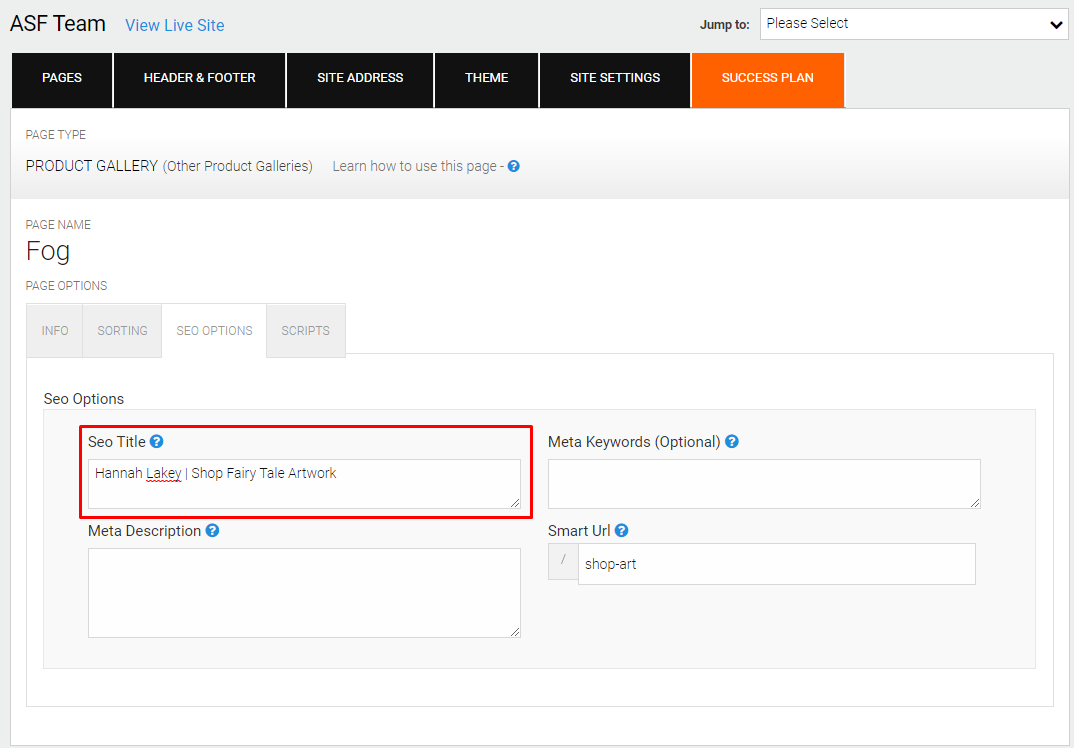 This has two effects. The first is to set the name displayed on the tab of the browser window.
The second is to set the name of the page when it shows up in search results.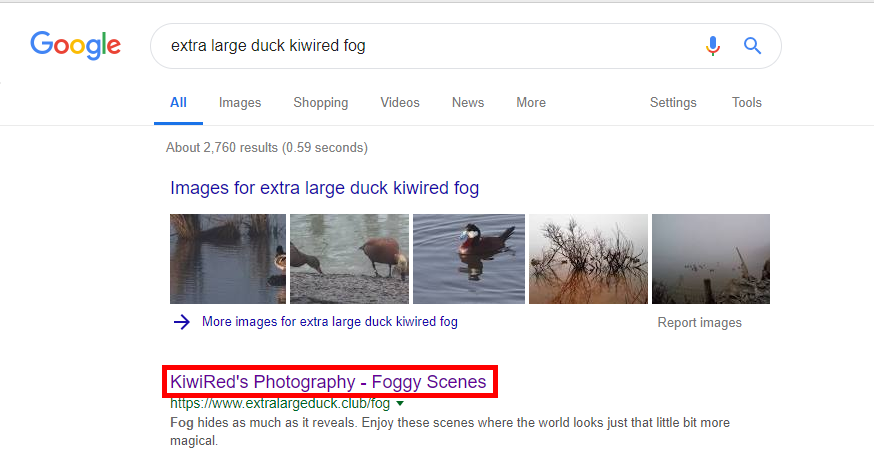 Meta Keywords
Meta Keywords field will indicate a list of potential search terms related to your business, separated by commas.
For example: Hannah, lakey, hannah lakey art, fairy tale art, fairy tale art prints, fairy tale paintings, cinderella painting, snow white painting, little mermaid art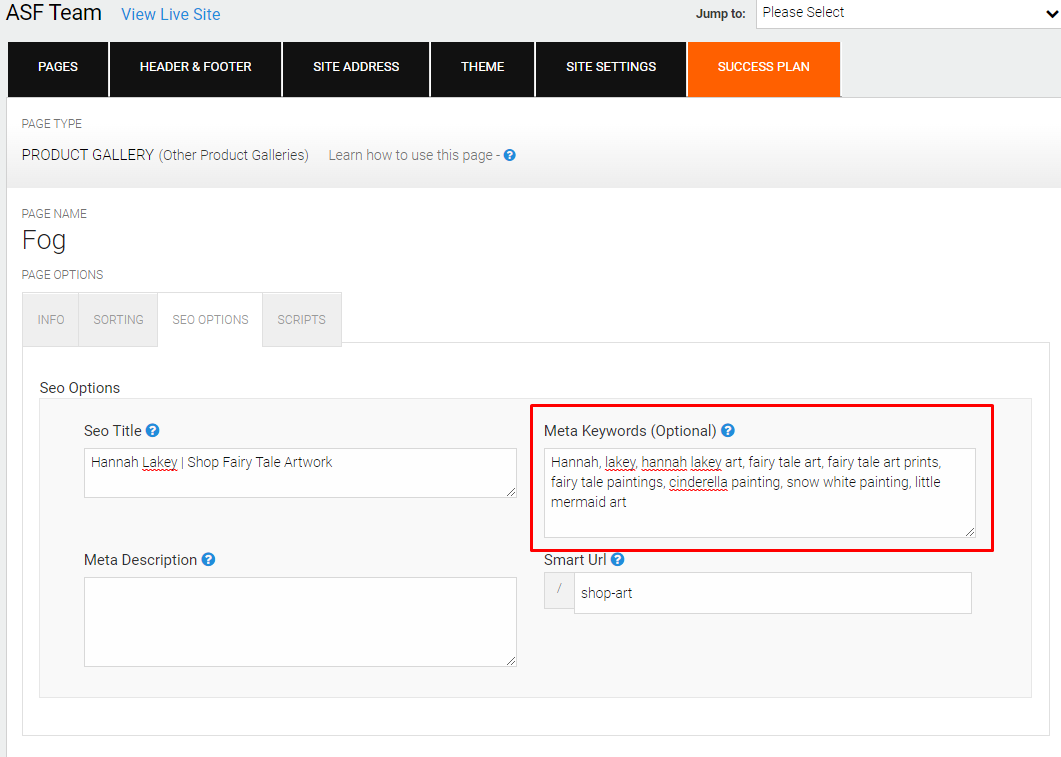 Meta Description
This setting allows you to create a short text description that will show up on your search result for this page. It would be best if you mention your name (or business name), your major niche (if you have one), and some of the products you sell all while using 160 characters max.
For example: Shop whimsical fairy tale art from artist Hannah Lakey. Find the perfect fit for your home with a variety of prints and originals available.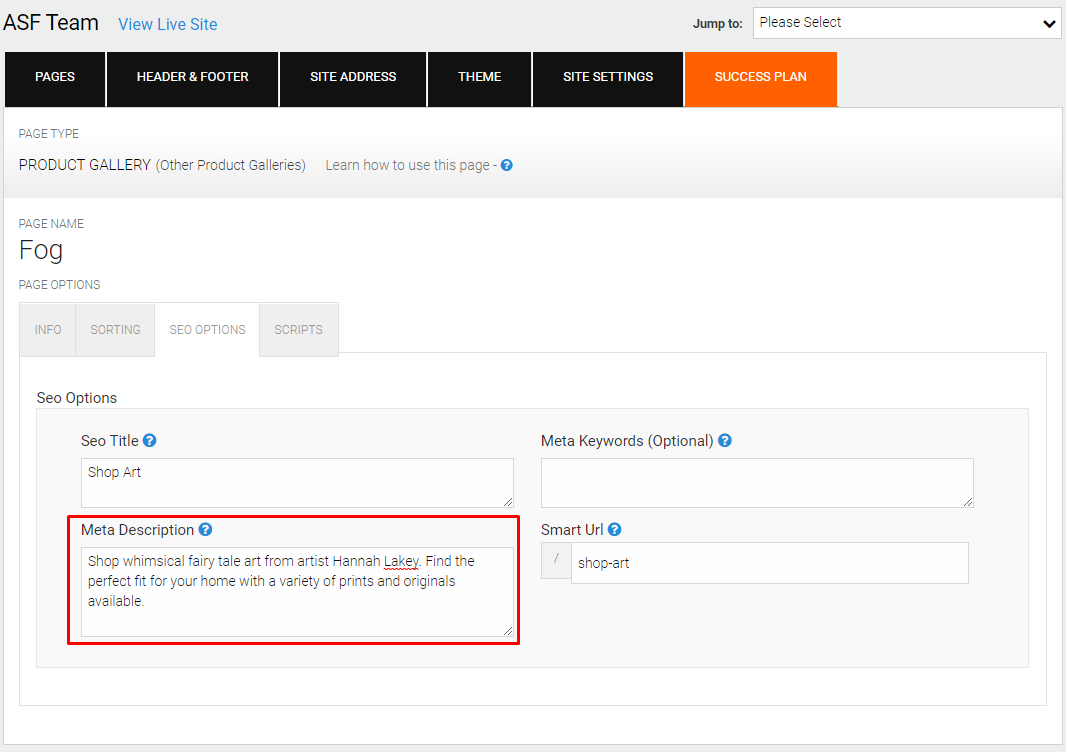 Smart-URL
This isn't exactly related to SEO, but it allows you a degree of control over the address or URL of your page.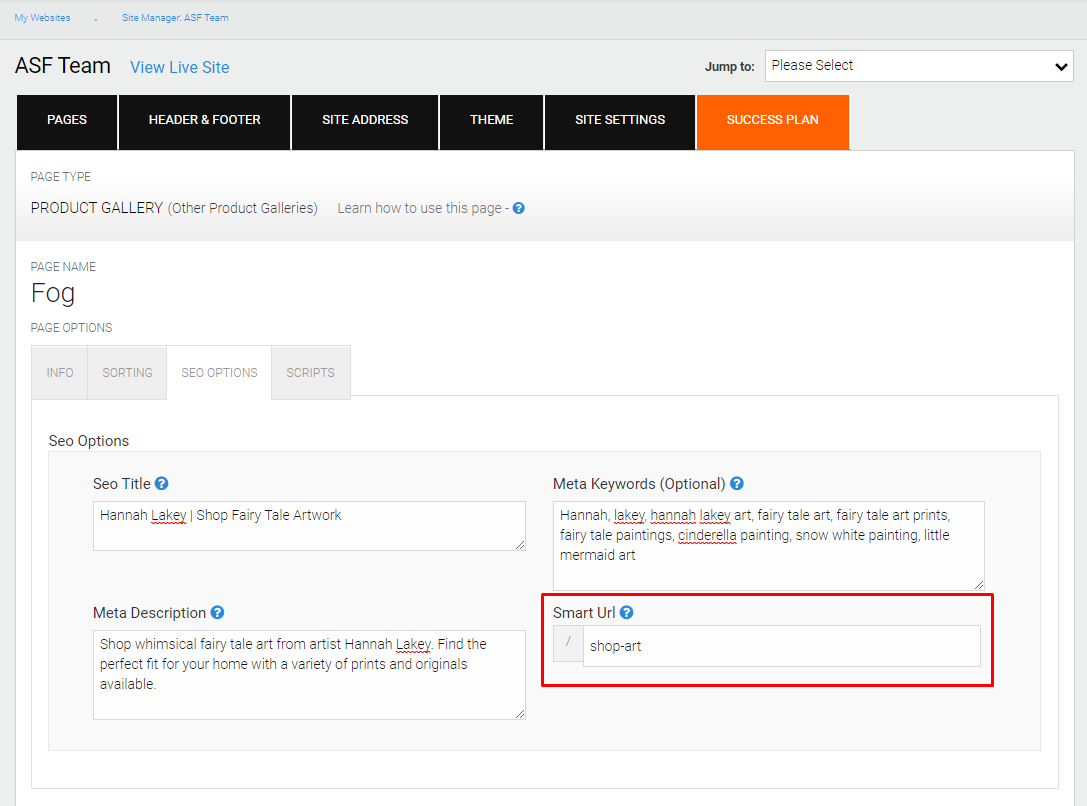 The text you enter here will be used to create the link to this page, as the page name at the end of the page URL.
Warning: You should only use alphanumeric characters in this field. This means the characters a-z (all lower case) and the numbers 0-9, but no other characters or punctuation.
That's it! After you have hand-optimized your homepage, allow the Automatic SEO feature to handle the rest of your pages for best results.
Section 4 - Scam Warning!
YOU SHOULD NEVER PAY FOR SEO HELP FROM ANYONE.
This is one of the most popular scam services targeted at artists and photographers, and it is largely a complete waste of money. These people will try various different tactics, but usually they will start with flashing warning signs that there is something major wrong with your website that only they can fix. This is a complete scam and should be ignored.
As long as you leave all the SEO fields blank, our algorithm will optimize your pages for you based on eCommerce standards. Remember: your investment in Art Storefronts already gives you everything you need to follow best practices and do the work that matters.